ALBUM REVIEW: SEVENTEEN's "FML"
The sensational, award-winning K-pop boy group, SEVENTEEN, made a comeback on April 24, 2023 with their 10th mini-album, "FML." They sold over 3 million album sales within the first day of release and surpassed 4.5 million sales in a week. They broke records and transcended BTS' "Map of the Soul:7″ and Adele's "25" as the fastest selling album in the century. 
According to Billboard, SEVENTEEN captured number one on Top Album Sales for their fifth time along with their seventh time number one on World Albums. On Hanteo, Korea's music chart, "FML" was deemed the "highest first-day selling K-pop album" in its history. This album is also the first time they have had double title tracks with "F*ck My Life" and "Super."
SEVENTEEN, a Korean-Pop boy band, has 13 members which are split between three units: Hip-hop: S.Coups, Wonwoo, Mingyu, and Vernon, Performance: Hoshi, Jun, The8, and Dino and Vocal: Woozi, Jeonghan, Joshua, DK, and Seungkwan. 
F*ck My Life, Title, 03:22
Despite the negative connotation in the title, SEVENTEEN intended for this song to be relatable and at the same time, moving. In this song, SEVENTEEN does not sugarcoat how everyone faces hardships and battles, and expresses that everyone is "fighting for their life." They offered that "FML" can have multiple defining meanings aside from its original message. Their interpretations include, "Fight for My Life" and "Find My Life." In their music video, they stated that this song was, "inspired by everyone around the world."  
When days become difficult, this is a song that listeners can sit back and listen to the chill and sentimental melodies. Hearing the title, I truly did not expect this song to be a song that is a bit slow, especially for a title track. Although it is not my absolute favorite, I still love how SEVENTEEN adds so much emotion and thought into their music production and lyrics.
"From now on, I'll fight for my life, for my own good, fight for my life. In a world where you're used to getting used to it, now I want to find myself."
Super, Title, 03:20
Taking from the Chinese myth, the Monkey God, SEVENTEEN describes themselves as Son Wukong, or Sonogong in Korean. "Super" encompasses their energizing drive to keep working hard and build themselves up to the very top. For this music video, it was their first time dancing with over 200 dancers, making it one of SEVENTEEN's largest productions. This song has traditional mixed with modern sounds and beats and choreography that would appeal to Son Goku and "Dragonball Z" fans.
Overall, this is one of my favorite songs from this album. It is fast paced, electrifying, and it keeps you on edge wanting to hear what's next. The choreography is addicting to watch, especially with the number of dancers, formations, and of course the Monkey God and Dragonball references. The overall production of this song was top-notch, and the whole song, in my opinion, is perfect. If I had to pick a song that shows off who Seventeen is, it would be Super.
"It's key that you got a strong will, the future's not going anywhere, not until I let go. Darumdarimda, let's move for the sake of it all, go. If I give it my all and slip up, I don't know how to give up, I'm running riot. Feels like I turned into Sonogong."
Fire, *Hip-hop Team, 02:38 
Fire is unique to SEVENTEEN's "usual" sound and it has a strong beat that makes anyone want to get up and dance. This song showcases their confidence and displays how far they've come along in their journey as a group. Filled with powerful raps and beats, "Fire" lives up to its name.
Personally, I am in love with the beats in this song and I love how "hype" the song is in general. Even though this type of music isn't what SEVENTEEN usually produces, they pulled it off flawlessly with high energy. I love the way they pronounce and rap the words in this song– it adds so much more strength and "umph" to the general sound.
"We've been touring domes now, haven't you heard now, stadium tours too, hey. Boy band making bands, twelve years, SEVENTEEN got my back. Even if I go back ten years, I have the confidence to rise again my way, we are a masterpiece."
I Don't Understand But I Luv U, *Performance Team, 03:29
Inspired by a CARAT's (fan) comment on a livestream, SEVENTEEN has turned a touching message into a lyrical masterpiece. This song basically describes how love is not limited to a language barrier, and directs this song towards their international fans. This is touching, also considering that the two Chinese members in the unit, Jun and The8, came to Korea barely knowing the language but still having a close relationship with the other 11 members of the group. 
As an international CARAT, this song was already one of my favorites ever since the highlight melody came out. The RnB sound and guitar captured my heart in the first five seconds into listening. I thought that it was so sweet how the fan's comment touched them so much that they turned it into a song. The performance team's vocals fit the song and vibe charmingly and their voices carry so much emotion. "I Don't Understand But I Luv U" was beautifully crafted and will remain one of my favorite songs of all time. 
"My heart is jealous of my eyes. Different languages and different times, you don't have to understand; You know, there are more important things than words between us, right? I don't understand but I love, but I love you."
Dust, *Vocal Team, 02:45
Dust is a lovely, upbeat yet nostalgic song that describes the denial and sad feelings that come with break-ups. It is a sincere, cute song about missing and longing for a past lover. This song describes the overwhelming wave of emotions that comes with a break-up and compares it to dust. 
I was a bit glad that this song wasn't a ballad. I love my SEVENTEEN ballads, but the skills of the vocal team can also fit into multiple genres besides slower ballads. The vocal team never fails to exhibit strong vocals that fit into the song and its meanings. I love "Dust," it gives off a really cute and daydream-like feel while listening to it. I wouldn't have known about how "deep" this song was until I searched up the lyrics. Again with SEVENTEEN, they never fall short in their ability to create poetic lyrics.
"The dust of stinging and bitter longing that contains my memories of you, they don't float away. No matter how much I throw away, the memories along the flower road, they returned back like dust and say, 'I still love you.'"
April Shower, 03:32
April shower gives off an anime opening, k-drama original soundtrack type of sound. As the album ends off with this song, listeners are able to have a hit of refreshing and upbeat, happy moods from this song. SEVENTEEN members mentioned how it was a perfect time to release this song, at the end of April going into May, because as the April showers ends, flowers bloom in May. It is especially meaningful to the members because May is the month the group debuted in. 
"April Shower" feels fresh, just as the sun shines after a quick rain shower. The instrumentals of this song feels happy, as if a new beginning was coming. This is a feel-good song and it definitely brightens up my mood when listening to it. Knowing how this song connects to SEVENTEEN as a group made the song so much more enjoyable. 
"When the April shower falls in late spring, put down your umbrella and walk in the rain. We are like flowers that bloom in May, we go from waiting to beauty. We will bloom more, more, more."
Editor's Note: SEVENTEEN debuted as a K-pop boy group on May 26, 2015. This album review was published on the day of SEVENTEEN's Eighth Anniversary. It is also the writer's 17th post on the Pinnacle newspaper. Baksu! (Clap!)
View Comments(1)
About the Contributor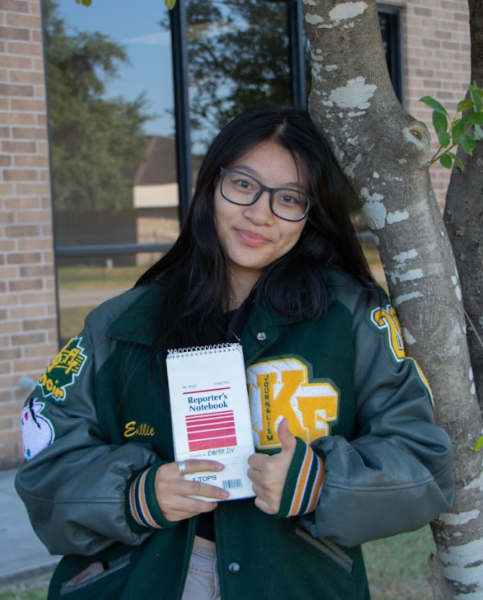 Emillie Siv, Newspaper EIC, Photographer
What's good everyone, hi my name is Emillie Siv and I'm your newspaper editor-in-chief and social media coordinator! I also work with Yearbook. This...