Final Close of Her Classroom Door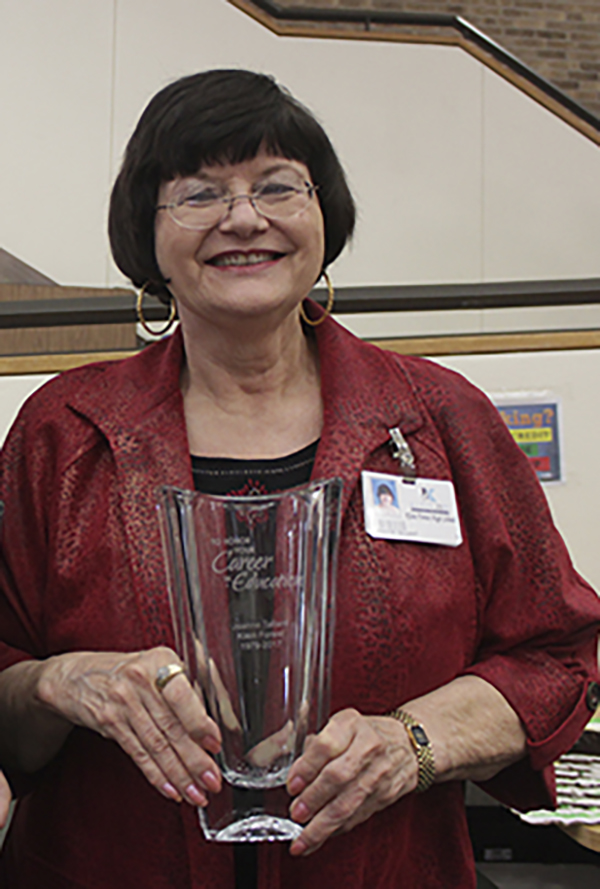 Opening and closing classroom doors for 48 years the door will close for the last time June 2 as Joanne Tallant leaves Klein Forest.
Prior to opening Klein Forest in the Fall of 1979 she taught 8th grade English, English 1, General Business and Junior English. In her 38 years here, teaching English 1, she has been in rooms 211, 209, 213, 215, 317, and 913.
"My classroom 48 years ago was not as pretty because I was in San Antonio. Really, we weren't given much of anything for the classroom. It was more sparse," she said.
While she's been in several rooms over the years her teaching philosophy never changed.
"I want everyone to learn and know that learning is fun, that learning is so enjoyable and that you never stop learning. I want kids to know in life that you should do your best, you should show good character and pursue a good reputation because it really does serve you well with your teachers and in the real world."
Not only do the students enjoy learning; however, Tallant learns from them and enjoys their humor. One of the funniest moments she remembers was when they were reading Romeo and Juliet.
During one scene Romeo, "Was telling her 'I do' which means good bye and one of my very sweet boys said Mrs. Tallant 'why is he saying I do I do? I thought they were already married.'"
Amazing laughs came with new technology as well when Klein Forest took on a new lease with student laptops.
In the beginning of her teaching career, "We used to do our grade books on paper, so that was certainly a big technology change. When we first started laptops, 1:1, we did many more assignments digitally."
With more digital access to students Tallant feels it is still important, "To build a relationship with them and know who they are as people. That's very important to them and when you do have to fuss they know that you love them. And that you aren't just fussing because you're mean and don't care about them."
Tallant never planned to be a teacher even though she was always the teacher as a little kid.
"I would help the teachers when I was in school. I loved the school room on the ranch in Kennedy. I graduated with a BBA and then I went back and got a teaching certificate because becoming a teacher was a calling from God and that's why I've enjoyed it for 48 years."
She doesn't think Lance Alexander, principal, will like her reason for retiring. For the 2017- 2018 school year the third floor will be turned into a freshman wing where there will only be ninth grade teachers and students.
"I don't want to go to the third floor. I've been there. Room 913 is so convenient; I have a work room where I brew coffee for people, I have a bathroom, and it's very convenient and upstairs is just not."
Tallant said if she were going to teach five or six more years she would move upstairs but she had planned to only teach two more years to try to make it 50.
After retirement she plans on helping with church conferences and do some traveling. She might even come back and do some one on one tutoring.
"Going into the classroom and now coming out of the classroom is an oxymoron. It's happy and sad at the same time. I cried because I loved teaching and I will miss so many people here as well as the students. It's happy because I will have a new season. I will travel and do some different things with my life that I didn't have time to do."
Leave a Comment