Band Earned Sweepstakes At UIL
Editor's Note: This story was updated to add photos and captions to the story. No other changes were made.
Students gathered around their head band director, Jesse Espinosa, eagerly waiting for the results of the UIL competition. The director asked the students to pull out their phones, increasing their anticipation and anxiety further delaying the outcome. As he announced the results, the band immediately jumped with excitement and joy. The marching band and color guard earned sweepstakes, or a perfect score, at their UIL competition contest on Oct. 10, 2022 at Woodforest Bank Stadium in Shenandoah Texas.   
"Last year we didn't really have a great show because it was our 'return from COVID-19'," junior Coen Nguyen said. "This year was a good start to the year and meant the world to me. I have a lot of senior friends– it's their last year this year so we all want to make it count."
The band performed in numerous football games since the school year started and have been preparing at after school rehearsals for at least 10 hours a week. As a result, the students showcased their confidence and the hard work they put into this program with their performances at games along with UIL. Several students gave credit to the new band director for implementing a new style in the band.
"This year, our band stuck so well," junior Zowie Jackson said. "Mr. E definitely helped us put some of those pieces together and just made us stick more than what we already had. That's why our UIL was so good this year."
 With the combined emotions of nervousness and excitement, the band stepped into the stadium with high chins along with their instruments or props. Even with the thorough preparation and rehearsals, there were still some doubts and intense moments the students faced. However, Jesse "Jae" Espinosa, a junior, shined when it mattered the most on the football field.   
"For my solos, they're decently hard in the marching band style," Jae Espinosa said. "I guess I don't hit them as consistently as I want, but on the day of UIL, I hit all of this stuff at a decent rating. I feel like that boosted everybody else; it was definitely a good experience going into it."
The UIL region marching contest graded bands on their visuals, choreography, marching, musicianship, and overall performance. The standards range from a fifth division rating (poor; 5) up to the first division rating (superior; 1). Sweepstakes is the term used in UIL competitions to state that the organization has earned all 1's in all of the grading aspects.     
"It's like a major grade in terms of what we're doing and where our program is," Jesse Espinosa said. "It's the Texas thing to do to make sure our bands are at a high level performance."
After the UIL competition, the band returned to the band hall with awaiting parents that threw them a congratulations party. Morale boosted and spirits soaring, a weight has come off the shoulders of the plethora of students and staff as they end the night. Senior Alexander Mejia described the UIL competition as exciting and that he will "keep pushing forward".
"This is my last UIL," Mejia said. "The band is like a family so that just means a lot that we moved onto area and that we made it together. I'm proud of everyone that we did well that day."
The band has started off their second quarter with a good start, and they are now off to the next level before state competition – area. Their area competition is this Saturday on Oct. 29, 2022 at Galena Park ISD Stadium. Jesse Espinosa expressed his appreciation and love for his band's hard work and dedication that they have put into their presentation of the band.
"There's some very tough competition out there but I believe our students, with the heart and will that they have, they can do it," Jesse Espinosa said. "We're going to keep pushing and hope that we can continue to develop the show and sharpen our skills even more so that we can give it our best shot."
Leave a Comment
About the Contributor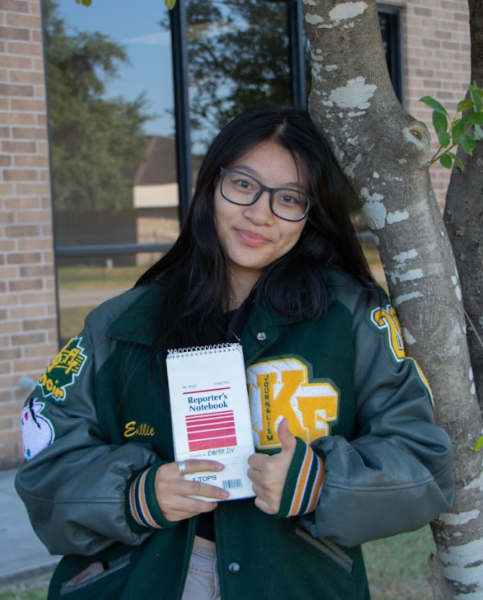 Emillie Siv, Newspaper EIC, Photographer
What's good everyone, hi my name is Emillie Siv and I'm your newspaper editor-in-chief and social media coordinator! I also work with Yearbook. This...