HOSA Created Survival Kits For Hope Haven
In a Klein-wide community service project, HOSA collaborated with Willowbrook Methodist Hospital and created a survival-kit donation drive called, "Hope Haven" for homeless people that ended on Friday, Nov. 4. This was also known as the COVID pack donation amongst students– the kits that provided the basic necessities.
Klein Forest HOSA was able to create 58 care packages. In total, all five high school HOSA organizations created 450 survival kits.
"We're working in coordination with all the other schools to try to provide as many things that we can for our homeless community," health science teacher Shannon McPherson said. "Our campus is trying to collect as many donations as possible."
Since the beginning of COVID in 2020, HOSA has been hosting donation events to give back to the community. HOSA members and officers advertised the donation drive through social media and flyers posted around campus trying to reach the biggest audience. HOSA's vice president, junior Shakira Truong, said her personal goal was to have the whole school involved and to feel the sense of accomplishment that stemmed from this event. 
"When we give those kits to the district or the collectors, I want them to know that Klein Forest has done their part and contributed," Truong said. "Another thing I want to accomplish is I want outside-of-HOSA students donating."
Materials collected for the donation included: disposable face masks, small hand sanitizers, toothbrushes, toothpaste, granola bars, bottles of water, and gallon sized food storage bags. Once the survival kits were packed, collectors from the Willowbrook Methodist Hospital picked up the kits on Nov. 7 for Hope Haven and began the distribution process for those in need around the local area. 
"It's more or less to benefit our community," president of HOSA senior Ryan Nguyen said. "Because as HOSA, we believe in sharing positivity. As students, we have a lot to contribute to smaller and more in need communities."
HOSA will donate the rest of their leftover supplies to their upcoming Coat and Blanket drive that will take place sometime after the Thanksgiving break. Health science teacher Aurora Guevara said the drive taught the students to help their neighbors. 
"Every event we do, they're learning respect, community, giving, sharing, and helping others," Guevara said. "That's what our students are getting out of HOSA and when we do any of these activities."
Leave a Comment
About the Contributor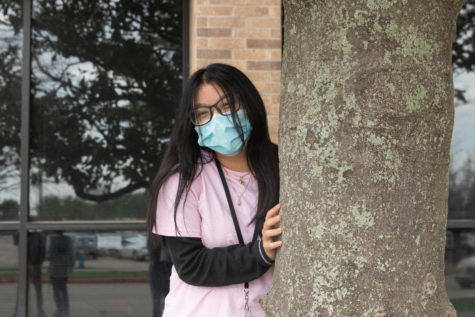 Emillie Siv, Newspaper EIC, Photographer
Hi! I'm Emillie and your newspaper editor-in-chief! I also work with the yearbook staff. I enjoy writing, photography, and documenting memories! I love...