Girls Track Headed to State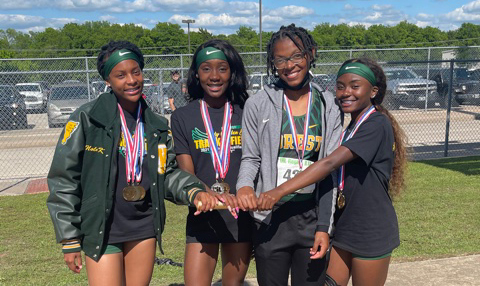 The Lady Golden Eagles Track Team  continues to succeed as five girls advance to the State Meet.
A 2nd place finish in the 4X100m relay qualified Kayla Meyers, Chelsea Heggar, juniors, Charnay Derrick, sophomore, and A'Niya Galloway, senior,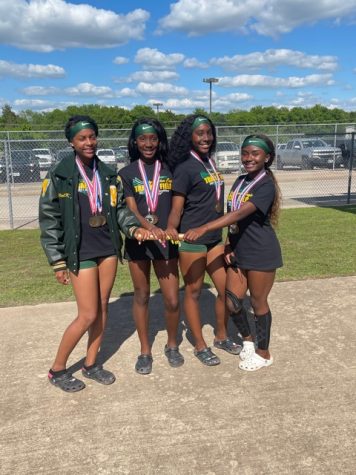 for the 2021 State Track & Field Meet at the University of Texas at Austin.
"I felt excited because it is my first year going to state," Meyers said. "Although I felt disappointed due to the pandemic cutting the season short last year, I trained harder to get to where I am today."
Perseverance kept the girls going all season and the Regional meet was no exception.
"I fell in the 300 hurdles," Derrick said. "So I felt I had to redeem myself, and that's what I did. I came back harder in the 4X100. Although I'm a sophomore it feels like I'm a freshman qualifying for State due to the cancelling of last year's meet."
Grabbing the Wild Card in the 4X200m Relay, Meyers,  Heggar,  Galloway and C'Nai Childress will also participate in the State Meet
There are four regions in Texas and the top two teams from each region  go to State. The Wild Card is given to  the team with the best time after the eight teams advance.
"Our time was 1:38:95," Childress said. "They give a Wild Card because  the track at the University of Texas has nine lanes, and that way all the lanes will be used."
In the 6A Region II Track Meet at Waco Midway HS, Heggar placed 3rd in the long jump and Meyers placed 3rd in the 100m hurdles.
"These Lady Golden Eagles were one spot from advancing to the State Track Meet," Shannon Wright, coach, said. "Congrats to them on a dominating season."
Heggar and  Galloway were both regional qualifiers in the 100m and 200m dash respectively.
"Thank you to all the support from the KF staff and administration," Wright said. "We love you back!"
Leave a Comment