House Bill 900, known as the READER Act, was supposed to go into effect on Friday, Sept. 1. It requires school libraries and classrooms to remove books that are rated as "sexually explicit" or have references of suicide from their bookshelves. The law affects booksellers, librarians, teachers, and students. This bill has been placed on hold due to an injunction by a Texas judge. 
"I think that it goes against everything that school's about," senior Fariha Adil said. "School's supposed to teach about how to grow up and live your life as a person. It's like [the lawmakers] are trying to force things and constrain people's freedom."
The bill states that booksellers are required to rate their books before selling them to educators. Additionally, books with a "sexually explicit" rating will need to be taken off school bookshelves. Meanwhile, if students want to check out books with a "sexually relevant" rating, they will need parental permission. According to the Texas Tribune, supporters for the law think of it as a "child protection bill" and that these books should not be a "distraction from the educational goals we've set as a state." 
"It has ideas that you can understand and it's not promoting this, it's about, this is something that is already happening and this is how you should deal with it in a healthy way," Adil said. "It's not something we can ignore, it's something that we actually have to deal with."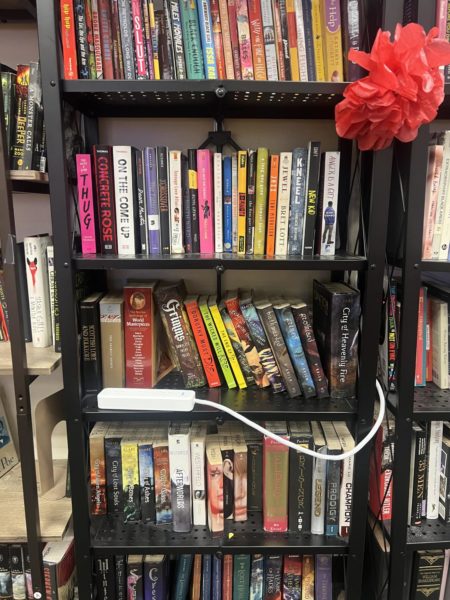 In a different article by the Texas Tribune, various parties such as librarians and parents, are concerned that books in the classroom won't reflect that of the students' reading them and hinder their learning and growth. They also expressed that books with sexuality may be rated "sexually explicit" or "sexually relevant" just because they deal with LGBTQ+ characters or themes. Senior Alex Benitez says that the law will need to be more specific on what counts as "sexually explicit" and how it does not want to promote queer characters.
"They'll start saying that they're 'R' rated only when it's just two guys, two girls," Benitez said. "I feel like for the kids that do use the library, it's limiting to them. There's things that helped me figure out things about myself through books and if the library is their main access to those books, it's taking away from them which could lead to them struggling [and feeling] very lost about themselves."
For some students, books are the source where they find comfort and escape where they can relate to the fictional characters. Benitez said that when books are taken away, "it would be like losing part of a community."   
"As someone who has been through bad mental health, you feel less alone knowing somebody else has been through this even though they're fictional," Benitez said. "Having somebody else put it into words what you felt, it's comforting. Through those books, I have found people and it has just made my life so much better."
HB 900 affects not only the young readers of the generation but instructors as well. Classroom libraries are slowly decreasing as teachers pull books out to be reviewed and approved. Dual Credit U.S. History teacher Elise Rothfeld has yet to receive her history textbooks due to the administration's review about whether they had any "sexually explicit" content or not. 
"When you teach an advanced history, that's what you touch on," Rothfeld said. "There's a reading I normally do about Native American conquest and it mentioned the atrocities that the Spanish implemented and I do not even have [my students] read that because I didn't want there to be any question about why we were reading it. I thought it may become controversial even though it's historically accurate and mentioned the genocide of the Indigenous population."
The removal of books is also affecting educators' curriculums and lesson plans for their classes.
"I'm all about primary source documents and looking at the actual history," Rothfeld said. "To me, when you take the primary source away and then all you do is interpret, well, interpretation could be biased. I'd rather have my students see it and then make their assessment."
Both students and teachers have expressed discontent with HB 900. Rothfeld believes that this bill will impact the student body and education in the future. 
"Our job at school is to encourage free thinking," Rothfeld said. "The whole purpose is that we're all diverse, so when we [teachers] say, 'you can't read that,' that's not my right, that's not the state's right. It squashes individuality."