Throwback Cinema: A Bronx Tale
Editor's note: This is the first in a series that introduces readers to older films worth checking out. 
"A Bronx Tale" hits all the familiar notes of a crime drama, whilst setting itself apart from the "Godfathers" and "Goodfellas" of the genre. 
Directed by and starring Robert DeNiro, A Bronx Tale was adapted from Chazz Palminteri's play of the same name. The film includes big names in the mob genre, like Robert DeNiro (Goodfellas, Casino, Once Upon a Time in America), Joe Pesci (who shares a role in every single DeNiro movie listed above) and Lillo Brancato (The Sopranos). 
While the film does not lack in its primarily Italian-American dominated cast and includes Dean Martin's timeless, swing classic Ain't that a Kick in the Head, which is featured in almost every classic mob movie, "A Bronx Tale" still manages to avoid the typical mob storyline and carve out its own identity as a coming-of-age film with strong crime-drama elements. 
Set in the 1960s of Bronx, New York, 9-year old Calogero grew up admiring local street gangster Sonny Lo Specchino, as he operated at the nearby mob bar just down the street. Calogero's father, Lorenzo, is a straight-arrow working man, who provides for his family and holds disdain for the mobsters who operate in the neighborhood, but knows not to disrespect them. 
Although Lorenzo made a great effort to keep Calogero away from Sonny, a relationship develops between them. Calogero witnesses a murder committed by Sonny, and when it comes time to point him out of a police lineup, Calogero doesn't rat Sonny out. Sonny grows in power, and his relationship with Calogero, or "C", strengthens, which worries Lorenzo. 
As DeNiro's directorial debut, he strategically decided to not cast himself as one of the mobsters, but rather as a concerned father (Lorenzo Anello). This character is undeniably DeNiro, but it's not DeNiro's Vito Corleone from "Godfather ll," or his Jimmy in "Goodfellas". Lorenzo plays the role of a humble bus driver, who is a stern but fair father to Calogero. 
Lorenzo's son, Calogero "C" Anelo, played by Lillo Brancato, is a highly impressionable child, easily swayed by the swagger and style of the gangsters down the street. He grows up living two lives, one as the son of Lorenzo, and the other as Sonny's (played by Chazz Palminteri) pupil. 
While this dynamic can seemingly set up Sonny as the film's antagonist, brilliant writing allows for a much more complex relationship between these two characters. Although Sonny is presented as a typical mobster, shades of neutrality arise in his character development when he takes Calogero under his wing and acts as a father figure, oftentimes protecting him from the dangers of his environment, and even urging Calogero to not follow in his footsteps. 
Another interesting dynamic this film presents is that of the racial tensions of 1960s New York, an environment filled with racial prejudice towards Black Americans. The film presents this element through the development of C's romantic relationship with Jane, a young black woman from the same opposing neighborhood that C's neighborhood is in a conflict with.
Given the societal context, this relationship between C and Jane (played by Taral Hicks) is almost one of forbidden love. This story arc is one of romance, where two people who live worlds apart fall in love. Other scenes involve more vulgar, and sometimes violent exhibitions of racism that contribute to the film's representation of a 1960s New York.  
This film does not lack in its ability to capture the viewer in its story, which is further supported by the camerawork, visual set piece, and fitting soundtrack. 50s-60s swing, jazz and blues music pieces are found all throughout the film. C's childhood arc is defined by the playful innocence of a little boy, which is accompanied by shots of children playing on the street while 50s Doo-Wop music plays. Cool jazz serves as the backdrop for Lorenzo's scenes where he's driving the bus with his son as passenger, where sax riffs and piano keys in relaxing tempos become reflective of and associated with Lorenzo's noble nature. 
Classy cars, flashy suits, Italian gangster lingo. This film does not fall short in delivering all the things that make a great gangster film, but brilliant writing and a great cast allow for this film to be much more than the average one-dimensional mafia movie. A fantastic work of art in visuals, acting and storytelling, "A Bronx Tale" encompasses everything great about the 80s coming-of-age film in a classic crime/drama package. 
View Comments(1)
About the Contributor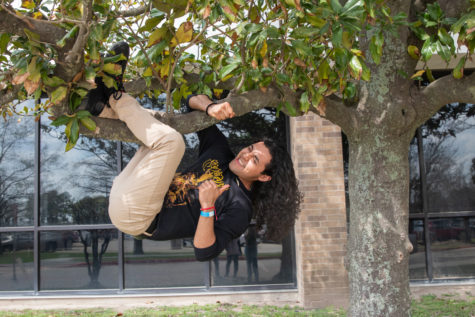 Kevin Garcia, Writer
Hi! I am Kevin, and this is my first year on the newspaper team. Aside from being a writer, I am a musician and an avid movie fan. I have a lot of dogs...