Student Guides Takes Eighth Graders on School Tour
Editors Note: This story was updated to correct the use of improper AP style.
The tour guides waited for the crowd of eighth graders to arrive. Soon, the commons were filled with the incoming freshmen. The eighth graders from Klein Intermediate and Wunderlich toured around the school with student guides on Wednesday, Jan. 11, and Friday, Jan. 13.
"We were there as moral support to make it seem more welcoming," junior Diana Charoenrat, a Goldduster, said. "I just want them to know that it's okay to be nervous going into high school, that it's okay to join any organization."
16 tour groups dispersed to show the future freshmen different CTE (Career and Technical Education) classes such as law enforcement, digital arts, construction, and more. Tour guide David Ramirez Torres, senior, was also a tour guide last year.
"I thought it was quite interesting because we got to show these kids who aren't in our school yet everything we've seen and everything we've been through," Ramirez said. "We're giving them an opportunity of what they can do."
The students rotated between the classes with three minutes to look into each classroom and the field of study they offer. Teachers and students presented their subjects and were prepared to make a good impression with the time crunch. Senior Isabel Flores, and a handful of other students spoke to the eighth graders that visited their child development classroom.
"I explained what class you have to take prior to it and what we do in the program," Flores said. "I was glad to see that there's a handful of kids that were actually interested in it and they asked us questions about it."
For the most part, student tour guides were upperclassmen who volunteered for the tour. As they were walking around from class to class, guides offered advice to the incoming freshmen.
"I feel like they should focus just on their studies and how to focus on school because later on, time goes really fast," junior Noemi Campuzano said. "Everything is not going to be always the same; high school is going to be way different and a whole other experience."
While the eighth graders will become freshmen in the 2023-2024 school year, the seniors will start to leave the nest this coming June. The majority of upperclassmen started to feel the effect of senioritis. Fernando Olivares, senior, said that the eighth grade tour "felt nostalgic."
"It reminded me of my tour," Olivares said. "They have a lot of classes to choose from, there's a lot of variety. I would say high school's not scary; high school's fun."
Leave a Comment
About the Contributor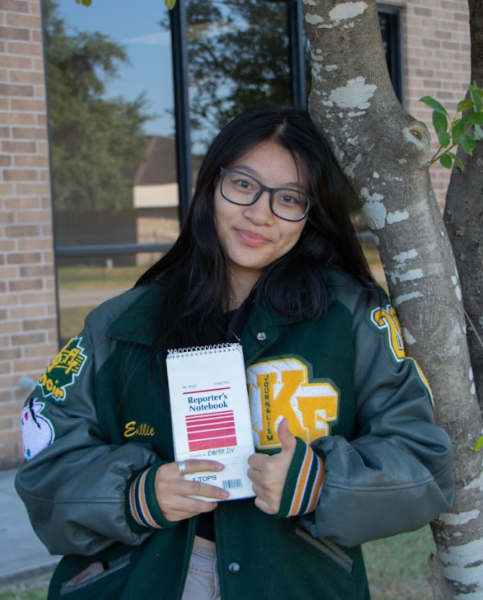 Emillie Siv, Newspaper EIC, Photographer
What's good everyone, hi my name is Emillie Siv and I'm your newspaper editor-in-chief and social media coordinator! I also work with Yearbook. This...